TeamLogic IT
About TeamLogic IT
TeamLogic IT understands that your success is our success. We make certain you are trained and prepared to confidently open your business. Then we continue to provide all the service and consultation, both business and technical, that will help your business grow.

With TeamLogic IT you are never on your own. We are committed to your support, and your success, every step of the way.

Step up to the future you want.

Opportunities that fit your business skills and personal goals are not always readily available. The distinctive advantage of TeamLogic IT - the strength of a national brand, a cutting-edge technological advantage, the support of an experienced organization - provide an excellent vehicle to achieve the dream of business ownership.

Success is now within reach.

Find out if owning a TeamLogic IT is the right path for you.

Veteran Incentives $5,000 off franchise fee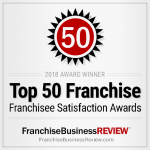 In Franchise Business Reviews' Top 200.
#192 in franchise 500 for 2020.
#200 in franchise 500 for 2021.
Below is a quick comparison of TeamLogic IT against other Computer Service & Support franchises and business opportunities. For an in depth comparison of TeamLogic IT with another opportunity including start-up costs and fees, business experience requirements, training & support and financing options click on the name of the company to view the detailed comparison.