The experts have weighed in. From the Wall Street Journal to Entrepreneur Magazine, SERVPRO is repeatedly honored as a premier franchisor in the cleanup and restoration industry. You'll learn why when you listen to our Franchise Owners talk about their experience! SERVPRO equips its Franchise Owners to lead and manage a solid business operation.

Founded in 1967 by Ted and Doris Isaacson, Servpro Industries, Inc. is now the nation's leading disaster restoration and cleaning franchise system with over 1,300 franchisees in 49 states.

SERVPRO has created the brand, system and support to help people take control of their own future and live the American Dream.

SERVPRO Franchise Professionals are uniquely qualified to keep claims costs down while still providing the best services possible for your customers.

SERVPRO's professional services network, which has relationships with major insurance companies, responds to property damage emergencies ranging from multi-million dollar disasters affecting entire communities to those suffered by individual businesses and homeowners.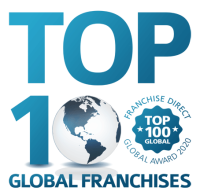 #27 in Franchise 500 for 2020.
#10 in Franchise 500 for 2021.
It's time to give yourself permission to build your days around what's important to you! You're in Control!
For more information, complete our FREE FRANCHISE ADVICE form!