When visits to various doctors did little to relieve the allergies Steve Kuhnau was suffering from, the nurse began reading up on nutrition, hoping a change in diet would help his symptoms. Once he began eating fresh foods and cutting fat out of his diet, Kuhnau started feeling better. His next task was to find a way to tackle the midday fatigue caused by hypoglycemia. Using his nursing expertise and the drink mixing experience he gained as a soda jerk in high school, Kuhnau began experimenting with high protein drinks. The resulting product combined fresh fruits, vitamins and other supplements and inspired the creation of Kuhnau's company, Smoothie King.
Each Smoothie King store sells smoothies and a variety of vitamins, minerals, low fat snacks and nutritional supplements.
Offering 40 percent off its initial franchise fee agreements for the first 40 agreements in 2013 IN St. Louis.
The total investment necessary to begin operation of a traditional Smoothie King Business ranges from for an end-cap or in-line location,
$269,550 to $545,035, and for a free-standing drive-thru location,
$577,100 to $845,985. This includes $28,250 to $36,990 that must be paid
to the franchisor.
If you sign an Area Development Agreement, you also
must pay the franchisor a development fee of $12,500 for each Smoothie King franchise you commit to develop after the first franchise. You
must develop a minimum of 5 Smoothie King Businesses under the Area
Development Agreement.
Veteran Incentives 20% off franchise fee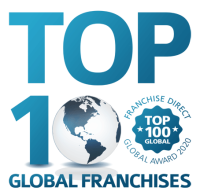 #14 in Franchise 500 for 2020.
#19 in Franchise 500 for 2021.
It's time to give yourself permission to build your days around what's important to you! You're in Control!
For more information, complete our FREE FRANCHISE ADVICE form!