Consistently ranked among the nation's top Franchises by Entrepreneur Magazine,
Bruster's Real Ice Cream
is one of the fastest growing ice cream franchises.
Bruster's Real Ice Cream
started as a family-owned ice cream shop in 1989 when founder Bruce Reed opened his first store in Bridgewater, PA. Bruce grew up in the food service business working at his family's diner just blocks away from where he opened the first Bruster's ice cream store. Today, Bruster's has more than 230 stores in the eastern United States from New Hampshire to Florida, with a majority of them being locally owned and operated.
Bruster's Real Ice Cream
has been consistently ranked by Entrepreneur magazine as one of the nation's leading franchise companies.
Bruster's philosophy is very simple. We believe that ice cream is one of life's great, simple pleasures that can be shared with family and friends of all ages.
Bruster's Real Ice Cream
store owners and managers share in that philosophy and our commitment to providing only the highest quality products and service to our customers. They are highly skilled experts in making only the freshest ice cream with the finest ingredients. Our owners and managers continue to rotate flavors to keep their product offering new and exciting every time a customer visits the store.
In addition, Bruster's Real Ice Cream is constantly developing and testing new products based on customer feedback.
The total investment necessary to begin operation of a Bruster's
franchised business is between $508,000 and $1,315,000 for a
freestanding Unit, between $229,200 and $584,500 for an endcapUnit. This
includes $35,000 that must be paid to the Franchisor or its
affiliate(s) for a Unit.
Seeking new franchise units throughout the U.S.,
Asia, Canada, Central America, Middle East, Mexico, Philippines and South America
#54 on Entrepreneur's ranking of the top 150 franchises offering incentives and other programs to help veterans become franchisees
Veteran Incentives 50% off franchise fee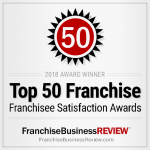 In Franchise Business Reviews Top 200.

#23 in Gator's Top franchises.

It's time to give yourself permission to build your days around what's important to you! You're in Control!
For more information, complete our FREE FRANCHISE ADVICE form!