#1 in the Booming Surface Refinishing Industry - the largest footprint in North America!

When buying any franchise, it's smart to join the leader in their respective industry. It's also smart to join an industry with surging customer demand. Miracle Method is in a unique position to offer both of these scenarios to you. No other surface refinisher can match our size, expertise or capabilities.

Miracle Method's unique and affordable refinishing process makes ugly bathtubs, countertops, and tile beautiful again - without replacing. The residential AND commercial demand for our time-saving alternative to replacing old bathroom and kitchen fixtures is skyrocketing.

Proven Demand & Revenue Diversity

We continue to set sales records, including a 70% increase in sales in the last 8 years. Since 1979, over 1,000,000 homeowners and businesses have chosen

Miracle Method for our money-saving alternative to the mess of replacing old bathtubs, countertops, and showers. And the mainstream awareness of our unique product has only just begun!


We have a strong and diverse revenue model:

1) Residential Surface Refinishing: Repairing & refinishing bathtubs, showers, and countertops in homes.


2) Commercial Surface Refinishing: Nearly 40% of our revenue comes from hospitals, universities, hotels, assisted living facilities, and other commercial accounts.

3) Bathing Safety: A complete Bathing Safety offering to the elderly and caregivers alike.

Proven Scalability and Potential

There is no limit to the size or level of success a franchisee can grow their business. Within our franchise network, we have several locations exceeding $1 million in annual sales, and some surpassing $2 million - and they all started with our comparatively small investment of $85-$125K.


If you have the drive and discipline to grow a business, then we want to talk to you. Take the next step - right now!
Veteran Incentives 10% off franchise fee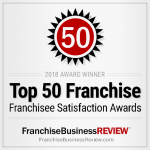 #37 in Gator's Top franchises.
In Franchise Business Reviews Top 200.
#163 in Franchise 500 for 2020.
#209 in Franchise 500 for 2021.
It's time to give yourself permission to build your days around what's important to you! You're in Control!
For more information, complete our FREE FRANCHISE ADVICE form!