Founded by Jack Faulk and Richard Thomas in 1977,
Bojangle's
serves Cajun-style chicken, buttermilk biscuits and other favorites to customers throughout the southeastern United States.
Today the Charlotte, North Carolina-based company, which also has restaurants in Honduras and Jamaica, offers a menu that includes chicken, biscuits, rice, french fries and sandwiches.
Bojangle's
locations also serve breakfast.
Franchisor is seeking new franchise units in the following regions/states:

Alabama, Central America, Florida, Georgia, Kentucky, Mississippi,
Midwest, Mexico, North Carolina, South, South America, South Carolina,
Southeast, Tennessee, Virginia, West Virginia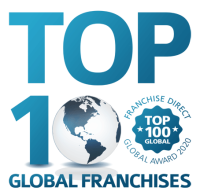 #49 in Franchise 500 for 2020.

It's time to give yourself permission to build your days around what's important to you! You're in Control!
For more information, complete our FREE FRANCHISE ADVICE form!