Founded by Jack Faulk and Richard Thomas in 1977,
Bojangle's
serves Cajun-style chicken, buttermilk biscuits and other favorites to customers throughout the southeastern United States.
Today the Charlotte, North Carolina-based company, which also has restaurants in Honduras and Jamaica, offers a menu that includes chicken, biscuits, rice, french fries and sandwiches. Bojangle's locations also serve breakfast.
The total investment necessary to begin operation of a Bojangles'
Restaurant ranges from $1,519,600 to $2,512,500 for a traditional,
free-standing Bojangles' Restaurant and from $414,155 to $1,284,700 for a
Bojangles' Express® Restaurant developed as part of another retail
operation. This includes $25,000 for each traditional Bojangles'
Restaurant and $15,000 for each Bojangles' Express Restaurant that must
be paid to the franchisor.

If you sign a Development Agreement to
develop multiple Bojangles' Restaurants you must pay a development fee
in the amount of $5,000 for each Restaurant that you commit to develop,
which will be credited against the franchise fee that you pay for each
Restaurant that you develop. The franchisor individually negotiates the
number of Restaurants that you may develop under each Development
Agreement. These estimates do not include the cost of acquiring real
estate.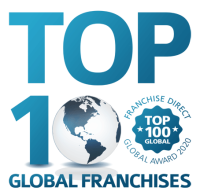 #49 in Franchise 500 for 2020.
#106 in Franchise 500 for 2021.
It's time to give yourself permission to build your days around what's important to you! You're in Control!
For more information, complete our FREE FRANCHISE ADVICE form!