Wingstop Franchising LLC is the franchisor. Wingstop restaurants offer
chicken wings in a variety of highly-seasoned flavors. They also offer
fresh-cut French fries, other foods, and beverages, including beer and
wine where legally permitted. A Wingstop franchise entitles the
franchisee to operate one restaurant at an approved location.
Veteran Incentives $15,000 off first-store franchise fee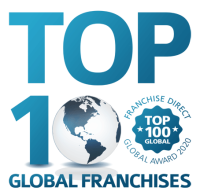 #42 in Franchise 500 for 2020.
#22 in Franchise 500 for 2021.
It's time to give yourself permission to build your days around what's important to you! You're in Control!
For more information, complete our FREE FRANCHISE ADVICE form!