While working as a chimney cleaner, Kevin Clark was often asked to remove animals from chimneys. Seeing the need for such services, Clark formed Clark's Critter Control in 1983 to remove animals from attics, decks and other areas for pest control companies.
Critter Control was incorporated in 1986 to offer businesses and homeowners a variety of wildlife control services. These services include repairing damage made by the animal and performing pest management such as screening vents, installing chimney caps and closing entry holes to make sure animals can't come back. The company also provides on-call services for cities that do not have their own animal control agencies.
Depending on the size of the territory in which your franchise is
located, the initial franchise fee will be between $54,875 and $91,900,
which may be discounted if you operated a wildlife and/or pest control
business (other than under a Critter Control franchise agreement) prior
to the signing of the franchise agreement. The estimated initial
investment to begin operation of a Critter Control Franchise ranges from
$70,900 to $199,475. This sum does not include the rent for the
business location or other real estate costs or the costs of purchasing
any existing customer contracts of one or both of our affiliates
Trutech, LLC and/or Critter Control Operations, Inc., that may be in the
territory assigned to you and that you are required to purchase from
such affiliate, which may cost in excess of $250,000. Of your estimated
initial investment, between $54,875 and $91,900, plus the cost of
purchasing such customer contracts, is payable to the franchisor.
Veteran Incentives $5,000 off franchise fee & 100% financing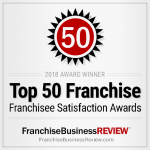 In Franchise Business Reviews Top 200.
It's time to give yourself permission to build your days around what's important to you! You're in Control!
For more information, complete our FREE FRANCHISE ADVICE form!