Gordon Logan, founder and CEO of Sport Clips, conceived the
Sport Clips idea in 1993 and opened its first franchised store in
Houston two years later. Designed to target a previously underserved
market, Sport Clips caters to men and boys by providing hassle-free
hairstyling in a sports-themed environment. The company began
franchising in 1995.
Do You have What It Takes?
You have strong leadership, managerial and communication skills
You enjoy developing Team Members and being involved in the community
You can effectively market your business and drive sales

You have a passion for the Sport Clips culture

Our Team Leaders come from different industries - no hair care experience
necessary!
Veteran Incentives: 20% off franchise fee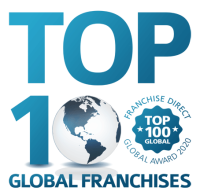 #4 in Gator's Top franchises.
#37 in Franchise 500 for 2020.
#17 in Franchise 500 for 2021.
It's time to give yourself permission to build your days around what's important to you! You're in Control!
For more information, complete our FREE FRANCHISE ADVICE form!