Johnny Rockets is an international restaurant chain that offers the food, fun and friendliness of classic, timeless, feel-good Americana. Every Johnny Rockets restaurant serves simple, great-tasting food from a menu of all-American favorites, including our juicy hamburgers, crispy American Fries, classic sandwiches and rich, delicious hand-dipped shakes and malts. It's the place to go for friendly service, flavorful food, uplifting music and relaxed, casual fun.

With annual sales in excess of $300 million, Johnny Rockets is a time-tested brand with an extraordinarily high awareness level, a loyal customer base and a broad demographic appeal.

The all-American theme is one that has proven to be universal and that leaps across all geographic and cultural boundaries. It easily translates into any language and relates to the best concepts of America, around the globe. Throughout the world, people appreciate the stereotypical home-cooked goodness of classic comfort foods; smiling, outgoing service and a bright, clean, cheerful atmosphere.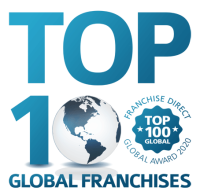 It's time to give yourself permission to build your days around what's important to you! You're in Control!
For more information, complete our FREE FRANCHISE ADVICE form!