Ben & Jerry's
is named for its founders, Ben Cohen and Jerry
Greenfield, who grew up together in Merrick, Long Island. In 1978, they
took a $5 correspondence course on ice-cream-making, then leased an old
gas station building in Burlington, Vermont to open their first ice
cream shop.
Ben & Jerry's
has over 580 franchised ice cream scoop shops and PartnerShops worldwide. We have over 350 scoop shops in the United States and over 350 scoop shops Internationally.
Seeking new franchise units in California, Colorado, Connecticut, Delaware, Florida, Georgia,
Hawaii, Illinois, Kansas, Massachusetts, Maryland, Maine, North
Carolina, New Jersey, New York, Ohio, Pennsylvania, South Carolina,
Tennessee, Texas, Utah, Virginia, Wisconsin, Midwest, Northeast, South,
Southeast, Southwest, West, Australia/New Zealand, Canada and Western
Europe.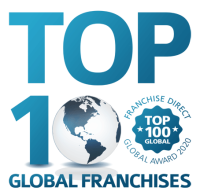 #63 in Franchise 500 for 2020.

It's time to give yourself permission to build your days around what's important to you! You're in Control!
For more information, complete our FREE FRANCHISE ADVICE form!