Join The Goddard School and become a member of a franchise system that has been defining educational childcare in the United States since 1988.


Goddard Systems, Inc. (GSI), franchisor of The Goddard School and the acknowledged leader in the childcare franchise segment, is awarding franchises to qualified applicants who want to go into business for themselves, not by themselves.

Highlights of a Goddard School franchise include:

*Our on-site owner/director model supports educational excellence and a thriving business. This dual management system allows the director to observe classrooms, mentor teachers and develop a healthy learning environment, while the owner has the flexibility to operate an efficient, thriving business.


*Our daily schedule allows franchisees to enjoy a family-friendly lifestyle. Franchisees are able to operate their businesses while balancing time with their families and friends. Most Goddard Schools are open Monday through Friday, 7 AM to 6 PM (hours of operation vary by location).


* Exceptional training and unparalleled support ensure top performance in Schools. Goddard School franchisees complete a comprehensive two-phase training program prior to School opening and have the opportunity to attend annual franchisee conventions and regional meetings. In addition, franchisees benefit from the extensive support structure that GSI has developed over 25 years in franchising.


*Goddard Quality Assurance (QA) reinforces the highest standards of care and The Goddard School F.L.EX. Learning Program. While every state has a licensing agency that oversees state requirements, Goddard Schools are additionally obligated to fulfill our own extensive QA Review. Goddard QA Representatives make unannounced semi-annual visits to each School to assess compliance with a full range of health and safety policies and procedures, as well as curriculum and program performance. As a result, The Goddard School has earned AdvancED and Middle States accreditation.


*Goddard Systems University (GSU) prepares faculty to follow The Goddard School's high standards. Funded by GSI, GSU supports ongoing director and teacher training through regional, online and on-site classes lead by corporate representatives. GSU training has been approved as an Authorized Provider by the International Association for Continuing Education and Training (IACET).


*Goddard School building design focuses on child safety and efficient operations. The building size provides a manageable environment in addition to two large playgrounds to accommodate age groups separately.
Veteran Incentives $20,000 off franchise fee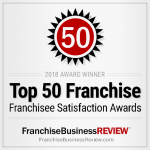 In Franchise Business Reviews' Top 200.
#88 on Franchise 500 for 2020.
#76 on Franchise 500 for 2021.

It's time to give yourself permission to build your days around what's important to you! You're in Control!
For more information, complete our FREE FRANCHISE ADVICE form!