Round Table Pizza is the fifth largest pizza chain in the U.S. with over 500 restaurants in nine western states and five foreign countries. Headquartered in Concord, California, in the San Francisco Bay Area, Round Table has built a reputation as the pizza brand of choice and market share leader in the most competitive and discriminating restaurant markets in the country. We are recognized throughout the West for gourmet taste, quality and menu innovation.

The key differentiator between Round Table and other branded pizza chains is our product. Every Round Table restaurant rolls fresh dough every day and tops every pie with fresh cheese and only the freshest ingredients. In this day and age of frozen dough, frozen cheese and frozen toppings, Round Table is unique in the pizza segment.

One of the major reasons for the success of the Round Table brand is our franchise owners and their strong commitment to product quality, service and proactive local community involvement. We are committed to franchising as our primary business model. Approximately 80% of Round Table restaurant businesses are owned and operated by franchisees.

Our evaluation and selection of new franchise candidates is based upon a number of different factors. We look for individuals with a track record of success in business, the ability to manage and develop people and strong customer service skills. Foodservice industry experience as an owner/operator or manager with P & L responsibility is strongly required.

Round Table is seeking qualified individuals who want to partner with a proven brand leader in the pizza segment to join our system.
The total investment necessary to begin operation of a Restaurant that
offers and sells menu items for dining at the Restaurant premises as
well as via delivery and carryout services (the "Dine-In Model"), is
$471,500 to $1,061,250, which includes $25,000 that must be paid to the
franchisor or their affiliate prior to opening; and a Restaurant that is
only authorized to offer and sell menu items for delivery and carry out
from the Restaurant premises (a "DCU Model") is $327,300 to $510,250,
which includes $25,000 that must be paid to the franchisor or their
affiliate prior to opening.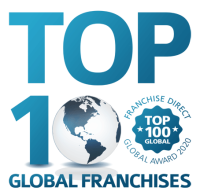 #172 in Franchise 500 for 2020.

It's time to give yourself permission to build your days around what's important to you! You're in Control!
For more information, complete our FREE FRANCHISE ADVICE form!