H&R Block is one of the world's largest tax services providers. H&R Block has prepared more than 550 million tax returns worldwide since 1955 and they have more than 100,000 trained tax professionals . The company was founded in 1955 by Brothers Henry W. Bloch and Richard A. Bloch who then grew the business to become a brand and franchising icon.

As well as providing in-person tax return preparation services, H&R Block also provides At Home online services and through desktop software products, and through other channels, the company also offers financial products to support its tax business through the H&R Block Bank. The bank offers traditional and alternative banking solutions to H&R Block tax clients and associates and serves customers online, via phone and at a branch location at H&R Block world headquarters in Kansas City, Montana.

When you become an H&R Block franchisee, you have more than 55 years of experience standing behind you. In addition to pioneering the tax services industry, H&R Block was also one of the first companies in the nation to implement the concept of franchising. In other words, no one knows the tax industry like H&R Block, and no competitor can offer a better franchise opportunity. So you can rest assured that our long history with the franchise business model will work to your advantage. We'll supply the tools you need to help you effectively beat the competition and to help you ensure your franchise's success.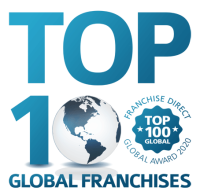 #306 in Franchise 500 for 2020.
#297 in Franchise 500 for 2021.
#86 on Franchise Rankings.com
It's time to give yourself permission to build your days around what's important to you! You're in Control!
For more information, complete our FREE FRANCHISE ADVICE form!