We could list hundreds of reasons that
Office Pride
is the best franchise opportunity in America, but here are just three.
1. LOW COST
Office Pride offers you one of the lowest entry fees into any reputable franchise system in America. We ask for only a fraction of what most franchisors demand in up-front franchise fees. By keeping our entry costs low, we let you keep your capital reserve to build your business fast rather than load you with financial commitments that can slow your growth and your ability to achieve your dreams.
2. HIGH POTENTIAL
Commercial cleaning in America alone is a $128 billion industry and growing at 7% every year. Yet the janitorial industry is very segmented with thousands of small, independent "mom & pops" that do not have the systems, buying power, or professional brand like
Office Pride
. By following our proven systems of cleaning, marketing, business development, employee training and management, your potential is limitless - your dreams are within reach!
3. VALUES-BASED
The mission of
Office Pride
Commercial Cleaning Services is to honor and glorify God by building mutually beneficial relationships with customers, employees, vendors, and franchisees and fulfilling our promise of providing top quality janitorial services through men and women committed to honesty, integrity, and hard work.
If these reasons match what you are looking for in a business opportunity, we would love to begin a prayerful discussion on how
Office Pride
can help you achieve your dreams.
Veteran Incentives 25% off franchise fee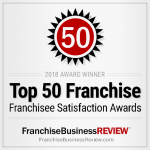 In Franchise Business Reviews' Top 200.
#358 in Franchise 500 for 2020.

#375 in Franchise 500 for 2021.
It's time to give yourself permission to build your days around what's important to you! You're in Control!
For more information, complete our FREE FRANCHISE ADVICE form!