Pinch A Penny strives to be unrivaled in providing value, quality and service to their customers. Perhaps that's why they're now 230 stores strong and growing. But they'd also like to think it's because their swimming pool expertise is something clients can count on to keep their pool and spa its healthiest and their client's family it's happiest. In fact, Pinch A Penny stores are all staffed with fully-trained people. They have more Certified Pool Operators than any other company and their continuing education programs are unparalleled. Since opening its first store in 1975, Pinch A Penny has become the largest franchised retail pool, patio and spa company.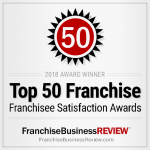 In Franchise Business Reviews' Top 200.

#26 in Gator's Top franchises.
#150 in Franchise 500 for 2020.

It's time to give yourself permission to build your days around what's important to you! You're in Control!
For more information, complete our FREE FRANCHISE ADVICE form!