Are you ready to embrace a franchise opportunity worth a million smiles?

Owning a Krispy Kreme doughnut franchise could be the sweetest move you have ever made!


In 1937, an entrepreneurial young man named Vernon Rudolph rented a small warehouse in Winston Salem, North Carolina so he could make doughnuts to sell to grocery stores. As it turns out, those doughnuts smelled so good that people walking past wanted to buy them. Vernon cut a hole in an outside wall and started selling them to passersby.
Business began to boom!

Vernon perfected the proprietary doughnut-making equipment and the secret recipe to be used in his new chain of shops, ensuring that every single doughnut made at a Krispy Kreme shop was deserving of the Krispy Kreme name.

Now, with decades of franchising experience, Krispy Kreme has become one of the most beloved doughnut and coffee franchises on the market with worldwide brand recognition. As the leading specialty retailer of premium-quality doughnuts, including our signature Original Glazed, our vision is to be the worldwide leader in sharing delicious tastes and creating joyful memories.
Krispy Kreme franchisees share our vision and benefit from our time-tested leadership and doughnut franchise experience in bringing our premium brand to more people in more places than ever before.

We strive to fulfill our mission statement: to touch and enhance lives through the joy that is Krispy Kreme. As a Krispy Kreme doughnut and coffee franchise owner, you become part of something more than just making doughnuts and coffee - you will share in the sweet success we strive for each and every day, as well as the smiles of your customers when they taste our delicious sweet treats. From our Hot Doughnuts Now sign and Doughnut Theater to our iconic paper hats, Krispy Kreme is a sweet and unique flavor of a brand.

The total initial investment necessary to begin operation ranges from
$1,287,500 to $2,750,000 for a Factory Store;
$558,500 to $1,500,000 for
a Tunnel Oven Shop;

$440,500 to $1,200,000 for a Fresh Shop;
$200,500
to $453,000 for a Box Shop; and
$1,617,500 to $4,115,000 for a
Commissary Facility.
These totals include the following amounts that
must be paid to us as initial fees and for a variety of goods and
services, as follows: for a Factory Store, $355,000 to $580,000; for a
Tunnel Oven Shop, $91,000 to $134,000; for a Fresh Shop, $30,000 to
$33,000; for a Box Shop, $30,000 to $33,000; and for a Commissary
Facility, $355,000 to $1,070,000.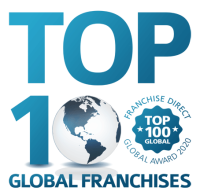 #85 on Franchise Rankings.com
It's time to give yourself permission to build your days around what's important to you! You're in Control!
For more information, complete our FREE FRANCHISE ADVICE form!