Big Frog
is NOT your father's T-shirt shop! We're a high-tech retail boutique with rainforest décor, serving consumers, businesses, charities & schools; think "George Jetson meets George of the Jungle"!
We make custom-designed T-shirts, polos and sweatshirts, gifts and other garments using photos, clip art, text and logos. We use a unique, environmentally-friendly high quality 'Direct-to-Garment' (DTG) inkjet printing process for a breathable image that won't peel, crack or fade. Main consumer selling points are: No minimum quantities (1-100 our specialty!); No setup fees or artwork charges (Free design service while you wait!); delivery within 24-hours; No kidding!
Big Frog
isn't just a business; it's a lifestyle! Your 1,200 sq foot store will be open Mon-Fri 9-6 and Sat 9-1, and you'll have only 2 or 3 employees, hardly any receivables and minimal inventory. Our DTG products have a 75+% gross margin, and we're one of the fastest-growing, most award-winning concepts in the franchise industry! Great owners network in the community, raising awareness and driving business back to the store.
We can provide any quantity of shirts using any decorating technique, including DTG, vinyl, UltraPrints, screen printing and embroidery. Our stores focus on the highest level of service and provide an amazing customer experience, going past "satisfying customers" to generating FANS. Customers, employees and the owner all have FUN, and our stores generate over 60% repeat and referral business!
Veteran Incentives 20% off franchise fee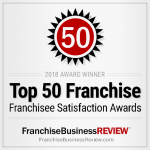 In Franchise Business Reviews' Top 200.
#474 in Franchise 500 for 2020.
It's time to give yourself permission to build your days around what's important to you! You're in Control!
For more information, complete our FREE FRANCHISE ADVICE form!