Qualicare is revolutionizing the home health care industry! Covering not only Medical and Non-Medical services, our unique 360Degree Case Management program provides the utmost in comprehensive care, coordination and advocacy.

Did we mention we are different? Qualicare ensures that we provide the guidance and support that our patients and their families need. We collaborate with physicians, hospitals, and social or community agencies to leverage all resources available to ensure that options are understood and the best care possible can be provided. Clients recognize 360degree Case Management as the highest form of homecare, helping us achieve client satisfaction levels that are in our industry's highest percentile.

The Best in Systems:
Our QPID Business Management software will keep your company organized and on track! This powerful tool has everything you need to properly run your business.

Latest Technology - Qualicare has a commitment to technology that keeps us always ahead of the curve. We believe that technology is a powerful tool when used properly and we know how to use it and how to show our Franchise partners how to benefit from it.


We Value our Franchise partners!

We'll encourage your suggestions because every franchise owner is an important part of our team. Qualicare realizes that our absolute biggest asset is our network of Franchise Owners and we encourage and reward pioneers and ingenuity!

"In our case, we truly feel fortunate that we have this opportunity to own and operate this business, but mostly that we chose Qualicare." - Sheldon Crystal, Qualicare Franchise Owner


*Ask us about our unique Pioneer Program in available States! This and other promotions available now for most US locations.

All of this, along with a booming opportunity in the homecare sector makes for a winning and timely combination. Contact us to find out why Qualicare is the best opportunity in Homecare!

Call us at 1.888.561.0616

Watch our intro video and check out our site for up-to-date information about our system, the criteria for our owners, our selection process as well as the incredible benefits for you and your community.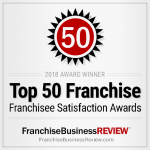 In Franchise Business Reviews Top 200.
#188 in Franchise 500 for 2021. Not ranked in Franchise 500 for 2020.

It's time to give yourself permission to build your days around what's important to you! You're in Control!
For more information, complete our FREE FRANCHISE ADVICE form!