The demand for services in the senior care industry continues to increase every year. More than 10,000 people turn 65 every day and by the end of 2012, the senior population in America will reach nearly 49 million. By 2025, it will grow to nearly 72 million.
True Caring is Exploring All Care Options
There's only one way to say this:
Amada
is different. Over the last 7 years we have built a business model insisting that seniors and their families explore all of their care options.
Amada
is one of the only senior care companies in North America that provides in-home non-medical care as well as assisted living placement consulting services. Today,
Amada
is one of the fastest growing senior care companies in California.
Veteran Incentives 10% off franchise fee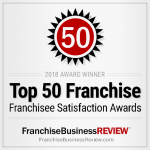 In Franchise Business Reviews' Top 200.
#208 in Franchise 500 for 2020.
#182 in Franchise 500 for 2021.
It's time to give yourself permission to build your days around what's important to you! You're in Control!
For more information, complete our FREE FRANCHISE ADVICE form!