Payroll Vault
provides a successful business model delivering tailored payroll services to the vast number of small and medium sized businesses. Business owners are faced with payroll related regulations, legislation, non-compliance issues, fees and fines. Now more than ever, these business owners need help and are looking for solutions.
The nation's fasting growing payroll franchise,
Payroll Vault
has mastered the art of running a successful payroll business, and is leading the way in a $13 billion market opportunity. With over 35 years of industry experience, our support team will provide the training, and ongoing day-to-day support necessary for success.
We're looking for people ready to capitalize on the opportunity to be a highly successful entrepreneur and the chance to work with other successful business owners in their community, helping them with their payroll needs and keeping them focused on their business.
If that's you, get in touch with us to help you get started on your Payroll Vault opportunity.
Veteran Incentives 10% off franchise fee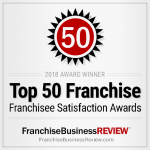 In Franchise Business Reviews' Top 200.
#449 in Franchise 500 for 2020.
It's time to give yourself permission to build your days around what's important to you! You're in Control!
For more information, complete our FREE FRANCHISE ADVICE form!