Why is America's favorite and most ubiquitous food so hard to get right on a national scale? Several entrepreneurs are at the forefront of this booming fast-casual trend, but none more so than a man whose previous claim to fame was as the brother of America's top tennis star.


Carl Chang smiles widely as he approaches me in the sprawling parking lot of the Irvine Spectrum, a giant outdoor shopping complex in Southern California. We head toward the busy restaurant he opened a few yards down, which, depending on whom you believe, may very well represent the future of pizza in the US.

"We want to celebrate creativity," says Chang, CEO of Pieology, a budding chain based in Rancho Santa Margarita that specializes in casually upscale build-your-own pizzas. He leads me to a long counter where a sign suggests, "Discover the Possibilities." Here, customers choose from three kinds of crusts, seven sauces, six cheese options, seven meats, and sixteen veggie toppings, which can be finished with an option of five drizzles, like pesto or "fiery buffalo sauce," at the end. This adds up to "78 billion flavor combinations," the menu points out - more than even the most committed pizza lover could tackle in a lifetime, and enough to lure plenty of regulars back to Pieology. Of all the ingredients behind the counter, it's the crust that draws the greatest zeal from Chang, a New Jersey native and devotee of the New York-style slice. "Our crust is a thin crust," he explained - an obvious gap in California's pizza scene outside of high-end restaurants. "A lot of the fast-food pizzas, their objective is to fill the stomach." So generally, their crusts are heavier. Not so at Pieology, which considers its crust to be lighter and more refined.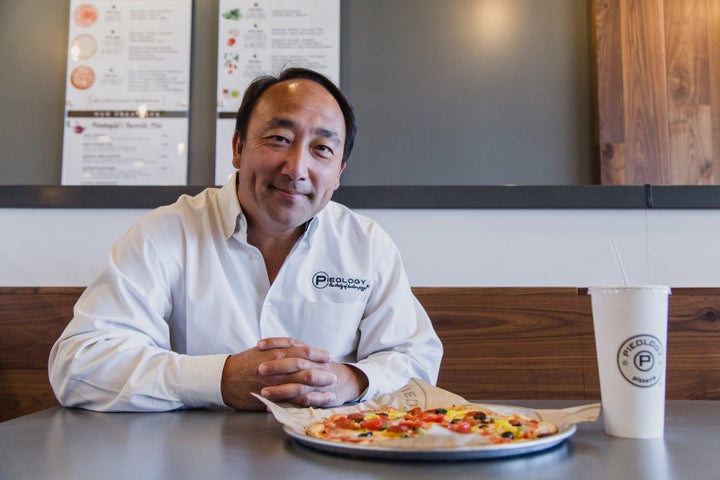 Behind the counter, a worker flattens a smooth globe of dough with a mechanical press into a slim 11.5-inch disc every time a personal pizza is ordered. Other ingredients, like spinach and fresh basil, are displayed in metal bins along the counter - lending some very 21st-century "freshness cues," as Chang calls them - where customers select their toppings. Each personal pizza, no matter how much you load on it, is $8.45. It's more than you might spend on lunch at another pizza joint, but Chang asks, "How do you make a $5 medium pizza and still make a profit?" His mission is to lure the US's delivery-addicted pizza eaters back into the pizzeria by way of a quality product made before their eyes at lightning speed - while still being affordable as an everyday lunch. He's not a restaurateur by training, but he is consumed by a powerful nostalgia for good pizza, and this is an area he feels that America's pizza giants have overlooked.
It's all part of a wave of nouveau fast-food, thin-crust pizza chains that emerged on the West Coast after the recession and are now booming: In 2015, Pieology was named the country's fastest-growing restaurant chain by food consultancy Technomic; this year two major Pieology competitors - Seattle-based Mod and Pasadena-based Blaze claimed the top spots.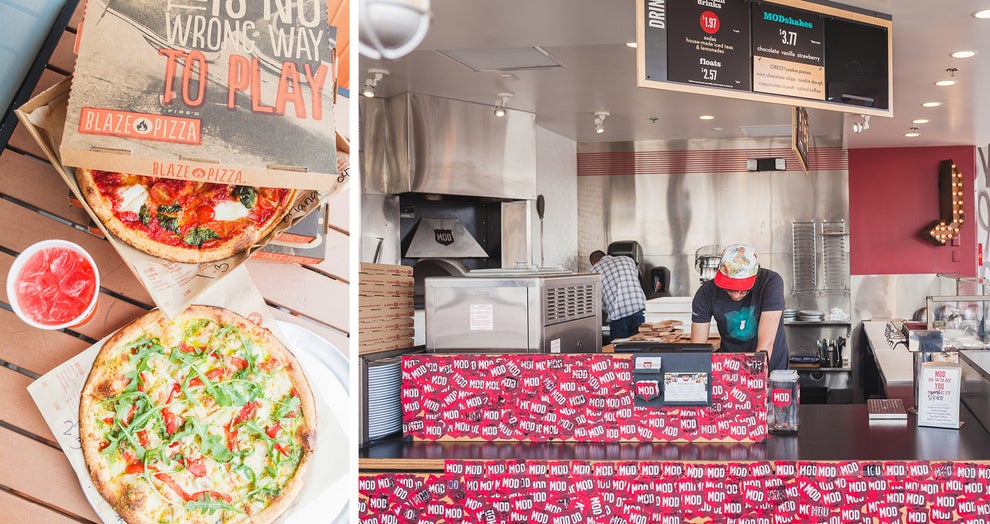 A pizza from Blaze Pizza (left), and Mod Pizza. Oriana Koren for BuzzFeed News
Pizza, like other fast food, proliferated in the US because it was cheap and convenient. Above all else, most Americans expect pizza to cost very little, which can be a recipe for all sorts of culinary shenanigans. While it was beloved for decades - even in the highly industrialized form most of us know today - the big chains lost their way somewhere down the line, in pursuit, perhaps, of efficiency and profit. But what other choice did a pizza enthusiast have?
Chang's mission is to lure America's delivery-addicted pizza eaters back into the pizzeria by way of a gourmet product made before their eyes at lightning speed.
At some point, enough people decided they were no longer content to just passively gorge on whatever pizza they were offered. In 2009, responding to persistent customer complaints like "Domino's pizza crust to me is like cardboard" and "the sauce tastes like ketchup," Domino's launched a new pizza recipe. In 2014, Pizza Hut revamped its menu to focus on bold flavors like honey Sriracha crusts and balsamic drizzles, after two years of declining sales. This year, Papa John's ditched artificial flavors and colors and launched an exhaustive list of other banned ingredients: no partially hydrogenated oils, no MSG, no fillers in meat toppings, no BHA, no BHT, no cellulose, and no antibiotics in its chicken toppings and poppers.The recent explosion of so-called fast-casual chains like Chipotle and Shake Shack - which lie a notch above fast food while avoiding table service and tipping - got many to expect fresh, high-quality, non-GMO, grass-fed, and otherwise ambitious-sounding ingredients, even when they were grabbing a quick bite. It was only a matter of time before customers demanded the same of their pizza. What's happening in pizza now is all very reminiscent of the chains that have boomed in the last decade by selling tuned-up versions of old-school junk food. Each of the three new-school pizza chains have roughly 100 locations, with commitments from franchisees to build hundreds more. There are well over 30 fast-casual pizza concepts - some of which have been around for much longer than these three - testing the market across the country. But in the end, says Technomic's president, Darren Tristano, "there's room for two to three major-growth national chains. "Chang hopes Pieology will hit 700 outlets within five years, riding on an ambitious goal: to hit the narrow sweet spot between the speed and convenience of the top fast-food joints while also offering food worthy of a gourmet pizzeria. Five thousand Pieology employees have come to count on him to succeed. In Chang's way are plenty of competitors - both startups and giants like Pizza Hut that are evolving in the same manner - who might do it better, and who stand to completely displace Chang and his oven-fired army from the second coming of pizza, reducing his ambition and his vision to little more than another half-baked pie in the sky.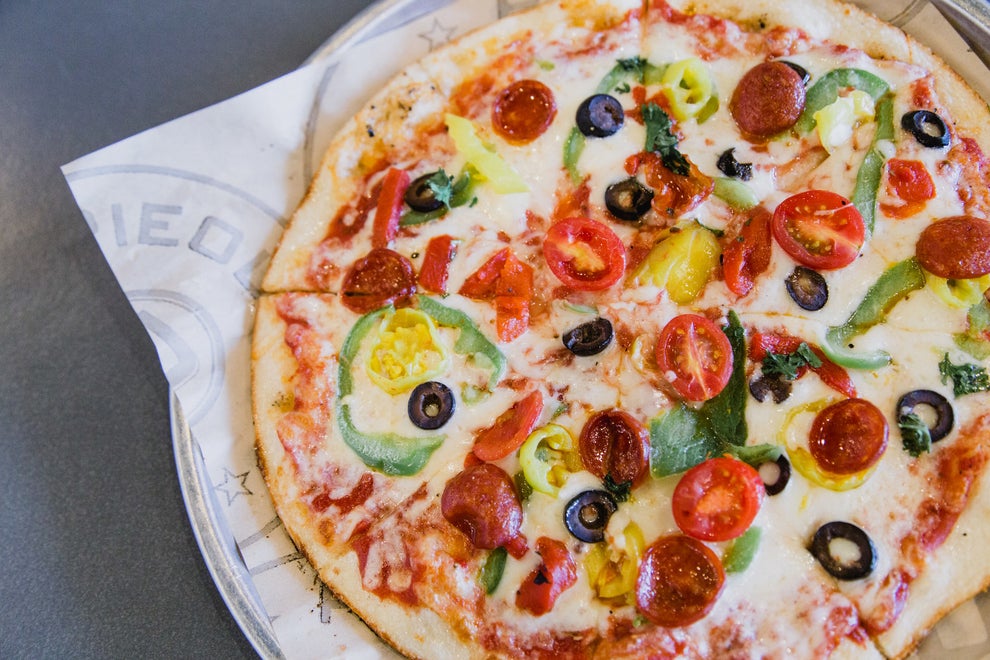 A pizza from Pieology.
Just past noon on a Monday at Pieology, Chang observes the lunch crowd that has already started claiming seats indoors and out - 65% of the chain's customers dine in, and the other third take their pies to go (at Pizza Hut, the majority of orders are for take-out or delivery). Chang is wearing a T-shirt and vest. The restaurant crew greet him. He speaks slowly and deliberately. If you were to create a cartoon character based just on his voice, which has a slight nasal tinge, he would wear glasses.
Inside, customers queue up along a wall decorated with dozens of inspirational messages, like "A wise man will make more opportunities than he finds" (Sir Francis Bacon) and "You're never a loser until you quit trying" (Mike Ditka). It's part of Pieology's new design, meant to look "less like Chipotle" than the previous decor did, Chang says. The store is outfitted with wood finishings and black tables and chairs. Exposed ceilings and vents lend a subtle industrial vibe.


Nothing about Chang suggests he should be at the vanguard of a pizza revolution. The 47-year-old father of four still has a full-time job as CEO of a real estate business; the restaurant was meant to be a hobby. He never went to culinary school, and has never worked at a pizza joint.
If the name Carl Chang rings familiar at all, it's probably as the older brother and coach of Michael Chang, who in 1989 became the the youngest male player to win a Grand Slam singles title, taking the French Open when he was just 17. Michael was called "a prodigy" and multimillion-dollar endorsement deals came his way, all before he was old enough to buy a lottery ticket."I've always been the guy that has the famous brother," Chang says. "I always joke about changing my name on my birth certificate to Michael Chang's Older Brother." But in just five years, Michael Chang's Older Brother has begun to build a name for himself. In 2015, Pieology rang up $80 million in sales across all its restaurants, and it expects sales to hit $225 million in 2016. Blaze's sales surpassed the $100 million mark last year, while Mod took in $65 million."Everyone feels like this is the next big category," says Rick Wetzel, founder of Wetzel's Pretzels, who launched Blaze Pizza in 2012 with his wife, Elise. Data from Technomic shows that while sales at regular fast-food pizza chains grew by 5.3% in 2015, sales at higher-end fast-casual pizza chains grew by 36.7%. They're designed to be attractive for walk-in customers and the lunch crowd, and they aim to churn out a pizza as quickly as fast food's speediest options, having adopted Chipotle's and Subway's build-your-own, assembly-line model.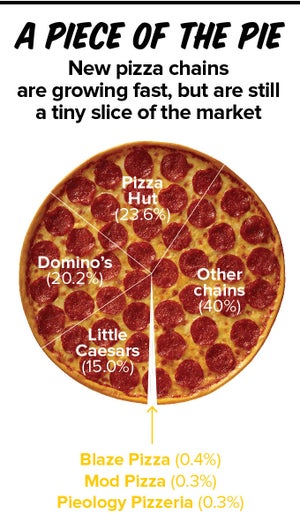 Source: Based on Technomic's 2015 data on the 500 largest restaurant chains in the US. Does not include small and independent pizzerias.
Chipotle has called its speed an "enormously huge competitive advantage for us and a huge part of customer service," and its would-be pizza competitors have taken that to heart. In a ritual familiar to any Chipotle regular, customers walk down a line and tell a crew member on the other side of the counter what sauces and toppings to put on their personal pizzas. Eventually they pay at the register, as their pies are baked in less than three minutes thanks to some modern twists on very Old World Neapolitan cooking. It takes some work. Each pizza at Blaze gets thrown into a fiery oven and is monitored by an employee who skillfully twirls the pie on a board so that it cooks quickly and evenly. Chang says a Pieology restaurant can handle 150 orders per hour during the two-and-a-half-hour lunch rush; a single Blaze restaurant can make about 175 pizzas per hour at lunch - that's nearly one every 20 seconds. Creating a personal pizza begins with a selection from three crusts: regular "house-made," whole wheat, or gluten-free. Then a choice of sauces: red, three-cheese Alfredo, herb butter, olive oil, buffalo, pesto, or barbecue. A couple of steps down are the cheeses: mozzarella, ricotta, Parmesan, feta, Gorgonzola, and vegan mozzarella. "I love cheese," Chang said. He paused and whispered: "I looooooove cheese." Pieology's mozzarella, in fact, is a proprietary one that Chang developed with his supplier (who he said was a big enough fan of tennis and his brother Michael to give them good pricing) to get the precise blend of buttery but not-too-salty cheesiness he pined for.
It gets shredded in-house: "It has to be a certain length and a certain width." Chang also developed Pieology's sweet, herby, ever-so-subtly spicy red-sauce recipe over a year and a half. "Tomatoes are so different. Oh my goodness. Some tomatoes are sweeter, some are richer, some have no taste whatsoever. Some you can tell weren't vine-ripened," he says. "You just can taste it." Nodding to a trend taken mainstream by Chipotle and other fast-casual restaurants, Pieology and its peers all pay particular attention to the provenance of their ingredients. Customers will find such hyper-self-aware ingredients as "California, non-GMO, 50-year-old seed-stock roasted garlic" at Blaze, and flours that are "never bleached and never bromated and have no unnecessary chemicals" in Mod's dough. "It is time to make it work for the lifestyles of here and now," says Ally Svenson, who in 2008 co-founded Mod with her husband, Scott, formerly the president of Starbucks in the UK. For Svenson, pizza "has been around forever and will be around forever, but what works for us now is different from what worked for us before."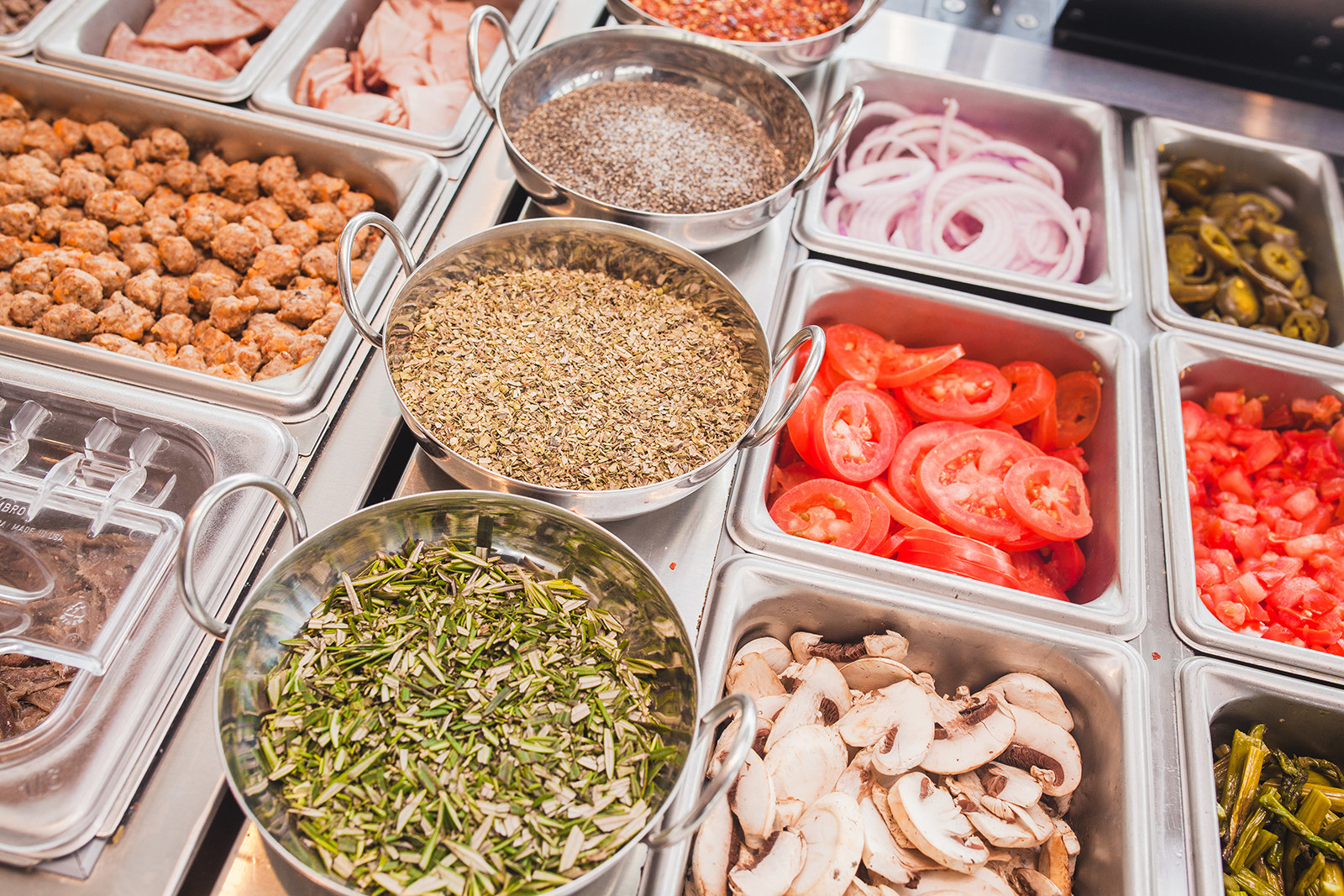 A prep station at Mod Pizza. Oriana Koren for BuzzFeed News
There already is a literal "Chipotle of pizza," even if it has been overshadowed by faster-growing franchises. In 2013, Chipotle itself invested in a pizza chain started in Boulder in 2011 called Pizzeria Locale. It now runs four restaurants and will soon grow to seven, all company-owned, with no plans to rev up expansion by franchising.

"Chipotle paved the way for the idea that just because it's fast, it doesn't have to be a typical fast-food experience," says Lachlan Mackinnon-Patterson, a co-founder of Pizzeria Locale. In the same tenor as Chipotle's executives, the chef explains that his vision is to "change people's pizza habits at a broad scale and change how people thought about fast-food pizza. "
To win the office lunch crowd, a chain needs to make a plausible case that it's selling a food that is okay to consume on a semi-regular basis - and that's one major roadblock for the new pizza chains. The National Institutes of Health specifically names pizza among foods teens should avoid, along with candy, soda, and fast food, which "have lots of added sugar, solid fats, and sodium," the site explains. "A healthy eating plan is low in these items."
We're still at home plate with that," Mackinnon-Patterson acknowledges. "I don't even know if we've left the plate, really. We're just starting to walk to first base."
The kind of pies favored by new-school chains like Blaze and Pieology fall somewhere between traditional Neapolitan pizza and the anarchy of the big American chains.

Today's young consumers, Chang believes, "want to control how the pizza is made, the toppings, the quality, the execution. "And we threw a twist on that: Instead of being charged per topping, why not create a model where you have so much control over how you want to build your own pie, and the freedom to do so limitlessly all for one price? And we actually pulled it off." Despite all the hubbub about artisanal toppings and customization, it's the Neapolitan-style cooking times that define the new-school pizza joints. It turns out that while most Americans have gotten used to waiting half an hour to have their pizza delivered or served to them by a waiter, pizza is an ideal product for a fast-food lunch: An authentic VPN-certified margherita pie can cook in one minute. The new-school pizza chains see this ability to turbo-bake as central to making quick grab-and-go pizzas available to the lunch-hour masses.Whether or not one of these franchises manages to become the Chipotle of pizza, their formula seems to be working. The average franchised Pieology makes $1.3 million in sales per year. Blaze restaurants take in about $1.5 million each.It's far exceeded any expectations Chang may have had when he promised his wife, Diana, he would just open one location by Cal State Fullerton in 2011 while he continued to run the real estate company. Sitting in their dining room at home, Diana recalls how years ago she said, "This is your dream; let's just do it. We'll have fun." Carl Chang laughs wildly. She said, "Just one, right?" - Yet as competing chains like Blaze expanded in the LA area, he says, a deep instinct nurtured during his days in tennis was revived: "The competitiveness turned on." But even Michael Chang knows that competitiveness only goes so far. "We've seen quite a few tennis players open up restaurants," he says. "It's a tough business. We've seen a lot open and a lot of them close. If [Carl] had said, "Hey we want to open up 100 stores within five years, - I'd probably be more hesitant. But he had the mentality of, "Hey, we just want to open one store first and see how it goes." I think that's reasonable." Meanwhile, Pizza Hut's US store count declined by 41 in 2015. Still, the biggest losers last year were independent pizza restaurants, which have been struggling against chains old and new.


Pizza Hut spokesman Doug Terfehr said that unlike the fast-casual competitors, which rely on walk-in traffic, Pizza Hut is a full-service restaurant and a delivery business, and "we feel that customers recognize that difference." Yet even Pizza Hut announced in 2015 it will update 700 stores each year through 2022 to keep up with trends, and roll out new ovens that - like those at the new fast-casual chains - can cook pizza in three minutes. Even if the new fast-casual chains are still a minuscule part of the of the $38 billion US pizza business, they have attracted plenty of attention from investors. Mod to date has raised more than $100 million, while in 2015, Blaze added LeBron James to its roster of investors (James decided not to renew his endorsement deal with McDonald's). Earlier this year, the 1,900-store Chinese fast-food chain Panda Express announced that it had bought a minority stake in Pieology. All that money being thrown around means tough competition, especially for these three chains, which all offer similar menus, prices, and experiences. After all, how many different ways are there to be the Chipotle of pizza? Pieology has fallen behind Mod and Blaze in terms of store count - and then there are the 30-plus other chains fighting for their share of pizza dollars. The long-term challenge for the new fast-casual pizza chains will be facing off not only against the thousands of pizza outlets already opened by the established giants, but also the other fast-casual chains that have nothing to do with pizza at all. "We compete for the same market share as the burger brands, and Panera and such," Chang says. "We tend to be great co-tenants, because we tend to be drivers for the same dayparts and similar consumers."Chang watches as customers nosh on their customized pies. He may be at the vanguard of a pizza revolution, but Pieology has reached a point where Chang needs more than the 37 people now working at headquarters to manage the next phase of expansion. The founder will eventually have to shift some of his executive powers to other people he trusts. "I really don't want to be the forefront of the brand," he says. "I'd rather stay behind the scenes. I'd rather be the unknown face and let Pieology stand on its own. That's always been my comfort zone. I grew up that way; I've always been behind the much more famous brother. I'm okay with that."