Secondary school math educator Toru
Kumon
built up the
Kumon
technique for adapting over 50 years back in Japan, when his child was battling with second-grade number-crunching. Understanding that a solid establishment in the rudiments - expansion, subtraction, increase and division- - was fundamental for larger amount math,
Kumon
made a progression of math worksheets for his child to chip away at after school. With every day practice,
Kumon
's child bit by bit extended his authority of scientific aptitudes and by 6th grade could settle differential conditions and basic analytics issues.
What sets Kumon apart from the rest?
Worldwide success


Kumon is the 4th largest franchise on the planet





Ongoing support


Our training and support begins on day one, and never ends





Low startup fees


You don't have to pay a premium to partner with the worldwide leader









Veteran Incentives $10,000 toward build-out/grand-opening costs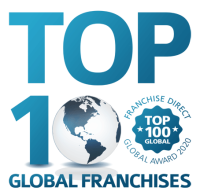 #61 in Gator's Top franchises.

#12 in Franchise 500 for 2020.

#6 in Franchise 500 for 2021.
It's time to give yourself permission to build your days around what's important to you! You're in Control!
For more information, complete our FREE FRANCHISE ADVICE form!