Frozen yogurt producer J.F. McCullough was trying different things with a formula for another solidified dairy item, originating from his conviction that dessert tasted better when it was delicate and served straight from the cooler, not solidified strong. With his formula culminated, McCullough and his child, Alex, persuaded one regarding their clients to hold a starting offer of the new delicate frozen yogurt, and more than 1,600 individuals appeared to attempt it. In light of that underlying achievement, the McCulloughs opened the primary
Dairy Queen
area in 1940 in Joliet, Illinois. The main stores sold just delicate serve frozen yogurt - in sundaes, bring home pints and quarts, and cones- - however throughout the years, an assortment of dessert treats were added to the menu, for example, banana parts and Dilly Bars. In the 1950s, some
Dairy Queens
started serving hot sustenance things. Today, stores framework wide have menus that incorporate franks, cheeseburgers and chicken tenders through
Dairy Queen
's Grill and Chill idea. The organization likewise offers a
DQ
Treat idea that offers both
Dairy Queen
's solidified treats and the sister organization's natural product beverages and smoothies.
International Dairy Queen, Inc., (IDQ) has been creating "smiles and stories" for more than 70 years. Tracing its roots back to 1940, the company, is a leading quick service restaurant franchisor of delicious frozen treats and mouth-watering hot food items. The company is corporately based in Minneapolis, MN, is the parent company of American Dairy Queen Corporation, Orange Julius of America and Karmelkorn Shoppes Inc., which develops, licenses and services a system of more than 6,400 Dairy Queen® Orange Julius® and Karmelkorn® stores in the United States, Canada and over 25 other countries. All are part of the Berkshire Hathaway family, a company owned by Warren Buffett, the legendary investor and CEO of Berkshire Hathaway.
The total investment necessary to begin operation of a single DQ Grill
& Chill® franchise is $1,151,135-$1,936,655.

This includes the
$45,555 that must be paid to the franchisor or affiliate. In addition,
if you enter into a multiple trade area reservation agreement, you will
pay an initial franchise fee deposit determined by multiplying the
number of restaurants you are granted the right to develop by $10,000.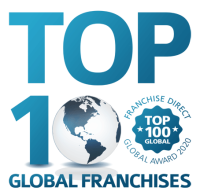 #16 in Franchise 500 for 2020.
#42 in Franchise 500 for 2021.

It's time to give yourself permission to build your days around what's important to you! You're in Control!
For more information, complete our FREE FRANCHISE ADVICE form!