Carl's Jr.
is known all through the Western U.S. as the place to go for premium quality burgers, specifically its 100% Angus hamburger Six Dollar Burger line.
At Hardee's® and
Carl's Jr.
® our brand sets us
apart from the competition. Our advertisements are created to be so bold
and memorable that they've been known to crash internet video servers.
Our taglines deliver bold statements and our visuals are designed to
keep viewers wanting more. EAT LIKE YOU MEAN IT.
Hardee's® and
Carl's Jr
.® have a strong track
record of successfully developing new premium products to lead the
category in taste, quality, and innovation. As an industry leader, we
have consistently out-delivered all other quick-service restaurants in
product development since our founding. Staying on top requires that we
continue to lead the way in the products we serve through taste,
quality, and innovation.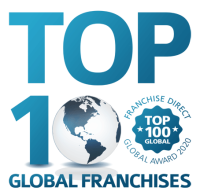 #100 in Franchise 500 for 2020.

#202 in Franchise 500 for 2021.
It's time to give yourself permission to build your days around what's important to you! You're in Control!
For more information, complete our FREE FRANCHISE ADVICE form!