Hardee's was founded in 1960 by Wilbur Hardee and has grown to more
than 2,000 restaurants around the world. CKE Restaurants acquired
Hardee's in 1997 and now, along side Carl's Jr., Hardee's is part of one
powerful concept with two global banners. Hardee's is a platform for
success for operators around the world.
Over the years, Hardee's has continued its growth
with an emphasis on quality, service, and cleanliness, pioneering
concepts such as partial table service and self-serve beverage bars. The
introduction of our Fresh Baked Buns™ in 2013 and our All Natural
Burger™ in 2015 confirm our constant emphasis on product innovation and
represent our focus on satisfying the tastes of young, hungry consumers.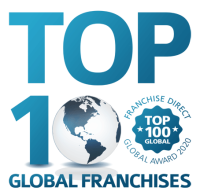 #74 on Franchise Rankings.com
#79 in Franchise 500 for 2020.

#269 in Franchise 500 for 2021.
It's time to give yourself permission to build your days around what's important to you! You're in Control!
For more information, complete our FREE FRANCHISE ADVICE form!