Truly Nolen
was founded in 1938 by Truly David Nolen. It incorporated in 1960 and began franchising in 1996. Based in Tucson, Arizona, the company is family owned.
Existing pest control or lawn care businesses can purchase conversion franchises.
Truly David Nolen - Shortly after graduating from the University of Florida with a degree in Entomology, Truly David Nolen joined forces with his father, Truly Wheatfield Nolen to expand and improve the pest control business. With third generation Scott Nolen as President, a dynasty was born. Scott's background in research and development has led to the development of natural techniques and inventions used in our family friendly approach to pest control.
Now,
Truly Nolen
boasts over 80 offices located in Arizona, California, Florida, Nevada, New Mexico, Texas and Utah. The company services more than 150,000 customers and employs about 1,100 partners, with almost 50 percent service technicians. Domestic franchises are offered throughout the United States. International franchises are also established in over 30 countries.
Truly Nolen
is seeking entrepreneurial minded individuals who want to own their own business.
Are you a hardworking, dedicated professional? Looking to take control of your career and determine your own worth? Ready to start working for yourself? If so, Truly Nolen may be your answer.
Truly Nolen is now seeking entrepreneurial minded individuals in your area who have a true desire and motivation to own and grow their own business to join their franchise family.
As a
Truly Nolen Franchise
e, you receive:
* Strong Branding recognition
* Industry Experience
* Over 70 years of pest, lawn and termite control experience
* Benefits Package
* Technical Support
* Proven Business Systems
* Constant and Consistent Support
* A Great Start Up Opportunity - where you can be in Business for yourself, but not by yourself

SET YOUR OWN HOURS! ANSWER TO YOURSELF!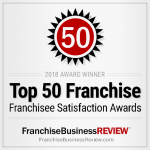 In Franchise Business Reviews' Top 200.
It's time to give yourself permission to build your days around what's important to you! You're in Control!
For more information, complete our FREE FRANCHISE ADVICE form!