We are, beyond a doubt, the fastest growing juice bar in all of Canada. Market share and enormous buying power are already increasing the profit opportunity for our partner/franchise owners and our corporate locations.

The public has waited for such a long time to have healthy alternatives to fast food. How about something other than cheeseburgers and fries. How about fruit? The Canadian Dietary Association recommends 5 servings of fruits and vegetables per day and that's just what we bring you in one of our 24 oz. smoothies.

Our concept is geared to the active lifestyles of the public. Smoothies are ideal as meals on the run, power breakfasts, energy enhancers, workout snacks and afternoon treats. It's no wonder why the Juice and Smoothie Bar sector is growing at an annual rate of 30% while the fast food sector is growing at a rate of 3%. The public embraces alternatives when the concept is solid and the product exceptional. And our product is right in tune with what the customer is demanding-- healthy alternatives to fast food.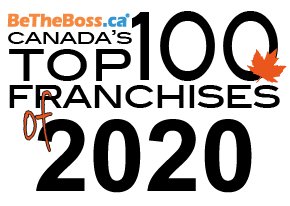 #19 in Canada's Top franchises.

It's time to give yourself permission to build your days around what's important to you! You're in Control!
For more information, complete our FREE FRANCHISE ADVICE form!