U.S. Lawns
was founded in 1986 and began franchising in 1987. In 1996, U.S. Lawns was acquired by Environmental Care Inc., a subsidiary of Environmental Industries Inc.
U.S. Lawns
is based in Orlando, Florida, and has locations throughout the United States.
Veterans
U.S. Lawns is consistently named one of America's top
franchises for vets. We understand how difficult it is to serve your
country overseas, then return to a bad economy and expect to find work.
So, we want to make it a little easier for you.
At U.S. Lawns, we recognize the tremendous sacrifices veterans have
made for our country. As a proud supporter of the VetFran initiative, we
are excited to offer the following incentives to honorably discharged
veterans:
$5,000 Discount off our Franchise Fee
90% Financing of the Franchise Fee

Because we stress discipline, uniformity and excellence, veteran
franchisees generally thrive in our company and become highly successful
business owners.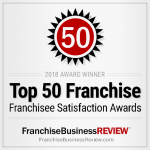 In Franchise Business Reviews' Top 200.
#295 in Franchise 500 for 2020.

It's time to give yourself permission to build your days around what's important to you! You're in Control!
For more information, complete our FREE FRANCHISE ADVICE form!