Senior Care is BOOMING!
Ranked #1 in Senior Care for the past five years, Home Helpers gives you the opportunity to build a rewarding business providing exceptional non-medical and personal care in an industry with high profit potential and is a great business opportunity.

Following our proven system, you'll receive comprehensive franchise training, ongoing support, an effective marketing program and much more to aid in your franchises success. Enjoy the benefits that come with franchise business ownership and feel good about helping others.
Call today to learn more! 1-800-216-4196
Entrepreneur Franchise Magazine
Our Track Record of Success

Home Helpers has been a franchise leader in the senior and in-home care markets for many years. In fact, Entrepreneur magazine has ranked us as the #1 Senior Care Franchise and Best of the Best for the past 5 years as well as a Top 101 Home Based Franchise and Top Low-Cost Franchise.

#1 Senior Care Franchise
"Best of the Best"
Top 101 Home Based Franchise
Top Low-Cost Franchise

With offices in more than 500 communities worldwide, we continue to open a new office every few days. And with the senior home care market growing so quickly, the opportunity in home care is tremendous. In fact, year over year, our franchisee owners have seen, on average, as much as a 24% increase in sales and have watched the value of their franchise in home investment continue to increase each year.
The total investment necessary to begin operation of a Home Helpers Home
Care franchised business that offers the minimum required services
(senior care and home care) is from $84,450 to $136,600. This includes
$57,100 that must be paid to the franchisor or an affiliate.
If the population of your territory is greater than 250,000, you must pay an
additional $500 for all or part of every 1,000 people over 250,000.

The total additional investment necessary to offer optional skilled care
services is $36,250 to $56,750 and the total additional investment to
become Medicare certified (also optional) is $160,250 to $267,750, none
of which is paid to the franchisor or an affiliate.
#44 in Gator's Top franchises.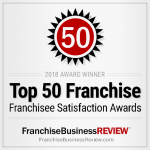 In Franchise Business Reviews Top 200.
#142 in Franchise 500 for 2021. Not in Franchise 500 for 2020.

It's time to give yourself permission to build your days around what's important to you! You're in Control!
For more information, complete our FREE FRANCHISE ADVICE form!