Eye Level, a supplemental education and enrichment program, offers a teaching philosophy and education method where self-directed learning, individualized academic coaching, and critical thinking are at the core of helping children improve and excel in their academic pursuits.

Daekyo America Franchise History

Daekyo was founded in South Korea in 1976 by Young Joong Kang, PhD. Over the next 20 years, Dr. Kang's fresh approach to supplemental education would transform the industry. By 1999, Daekyo was the most recognized education brand in South Korea. Daekyo began franchising in the United States in 1991. Eye Level has more than 190 centers in the U.S., and more than 780
additional locations throughout the world.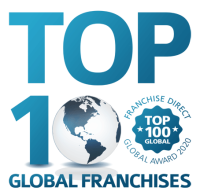 #95 in Gator's Top franchises.
#184 in Franchise 500 for 2020.

It's time to give yourself permission to build your days around what's important to you! You're in Control!
For more information, complete our FREE FRANCHISE ADVICE form!