Checkers Drive-In Restaurants, Inc. is the largest double drive-thru restaurant chain in the United States. Checkers develops, produces, owns, operates, and franchises quick service "double drive-thru" restaurants under the two brand names "Checkers" and "Rally's Hamburgers". The restaurants are designed to provide fast and efficient automobile-oriented service and appeal to guests of all ages. The double drive-thru concept allows Checkers' and Rally's Hamburgers to capitalize on the fact that approximately fifty percent of all quick-service food business is drive-thru. Guests can also enjoy a 1950's flashback with walk-up ordering and outdoor dining in the outside picnic area at most locations.
The total investment necessary to begin operation of a Checkers
Restaurant (excluding real estate and related
costs) is: $780,000 to $1,431,000 for a new modular design single
drive-thru restaurant; $320,500 to $787,000 for a site built, conversion
or used modular drive-thru restaurant; $259,700 to $648,000 for an
endcap strip-center and gas/convenience restaurant; and $254,000 to
$514,000 for a Non-Traditional, Walmart or in-line restaurant in a
high-density market. This includes $10,000 to $50,000 that must be paid
to the franchisor or an affiliate, plus $10,000 for each additional
restaurant that you agree to develop under a development agreement.
Veteran Incentives Franchise fee waived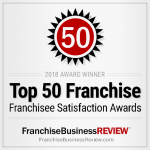 #11 in Gator's Top franchises.
In Franchise Business Reviews Top 200.
#76 on Franchise Rankings.com
#198 in Franchise 500 for 2020.
#162 in Franchise 500 for 2021.
It's time to give yourself permission to build your days around what's important to you! You're in Control!
For more information, complete our FREE FRANCHISE ADVICE form!