As one of the country's most recognized brands, Checkers & Rally's is an industry leader with over 30 years of experience and more than 800 restaurants. Our guests' love for our bold flavored and seared burgers, indulgent milkshakes, and Famous Seasoned Fries is driving us to expand in new cities and develop in existing markets across the country. We continue to accelerate with unprecedented growth. Because we put our franchisees first, you can enjoy a business made to last. Come grow with us and learn how we've got our franchisees back!

The total investment necessary to begin operation of a Rallys Restaurant (excluding real estate and related
costs) is: $780,000 to $1,431,000 for a new modular design single
drive-thru restaurant; $320,500 to $787,000 for a site built, conversion
or used modular drive-thru restaurant; $259,700 to $648,000 for an
endcap strip-center and gas/convenience restaurant; and $254,000 to
$514,000 for a Non-Traditional, Walmart or in-line restaurant in a
high-density market. This includes $10,000 to $50,000 that must be paid
to the franchisor or an affiliate, plus $10,000 for each additional
restaurant that you agree to develop under a development agreement.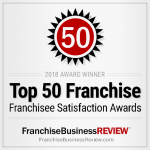 #11 in Gator's Top franchises.
In Franchise Business Reviews Top 200.
It's time to give yourself permission to build your days around what's important to you! You're in Control!
For more information, complete our FREE FRANCHISE ADVICE form!