What is a Home Health Care Franchise?
A home health care franchise from
Right at Home
serves the needs of individuals who aren't ready for an institutional setting, but need assistance to remain living in the comfort and privacy of their own home. A
Right at Home
franchise provides trained, insured and bonded caregivers to seniors and disabled adults based upon the needs of each individual client.
As a home health care franchisee, you would be responsible for the administration, training and management of these caregivers. In addition, you would network with referral sources and position yourself as the expert in home health care in your area. At the end of the day, you will have helped an individual maintain quality of life and made your community a better place to live.
Starting a Home Health Care Business
Once in a great while, extraordinary market opportunities present themselves. Right now, our population is aging quickly causing an unprecedented demand for senior home care products and services. Through home health care franchise opportunities,
Right at Home
provides home health care and assistance for seniors and disabled adults. There's never been a better time to consider a senior home care franchise opportunity with
Right at Home
.
A
Right at Home
franchise provides innovative programs, training and procedures that allow you to efficiently and effectively provide a full spectrum of senior home care and medical staffing services. Our senior home health care franchise allows you to offer services such as companionship, personal care, and skilled nursing. As a result, you have the ability to expand the breadth of your services, retain clients for longer periods of time, and distinguish yourself from the competition.
Seeking new franchise units throughout the U.S., Asia, Australia/New Zealand, Canada, Eastern Europe, South America and Western Europe

The total investment necessary to begin operation of a Right a Home
franchise ranges from $80,150 to $147,150. This includes an Initial
Franchise Fee in the amount of $49,500 that must be paid to the
franchisor.

If you choose to convert your existing home care business to a Right at
Home Conversion Franchised Business, the franchisor may choose to reduce
your Conversion Initial Franchise Fee. The total investment necessary
to begin operation of a Conversion Franchised Business ranges from
$74,750 to $144,780.
Veteran Incentives 10% off franchise fee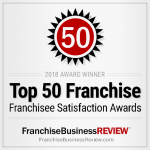 In Franchise Business Reviews' Top 200.

#340 in Franchise 500 for 2020.
#214 in Franchise 500 for 2021.
It's time to give yourself permission to build your days around what's important to you! You're in Control!
For more information, complete our FREE FRANCHISE ADVICE form!