Our roots go back to 1982 in Houston, Texas, when Mark Carr founded
Christian Brothers Automotive
with a mission to "love your neighbor as
yourself" (Matthew 22:39).
When we began our franchise program in 1996, this principle carried
forward as the guiding light for all our franchisees. Today, there are
over 160 Christian Brothers locations across 24 states and many more
coming soon.
We are proud to say that each of our franchisees operates their business
with the deep-seated knowledge that if we treat each other right, we'll
have happy customers - and that's how we'll succeed financially. In our 24+
years of franchising we've never closed a location and are proud to
continue that legacy in years to come.
Veteran Incentives 10% off franchise fee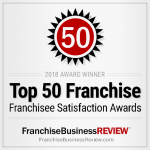 In Franchise Business Reviews' Top 200.
#261 in Franchise 500 for 2020.

It's time to give yourself permission to build your days around what's important to you! You're in Control!
For more information, complete our FREE FRANCHISE ADVICE form!