The Glass Guru
, with over 60 franchises in North America, is an industry leader providing a full range of glass, window and door restoration and replacement services to homeowners
and businesses alike.
The Glass Guru
franchisees offer a unique bundle of in-demand services:
Dual pane moisture removal (Over 25,000 windows successfully restored in North America!)
Scratch & Stain Removal
New Glass for Windows, Doors, Cabinets, Shelves, Tabletops, etc.
Glass Shower Enclosures
Screens & Sunscreens
Doors, Hardware & More!
Key Benefits for
The Glass Guru
Franchise Owners
Cutting-Edge Money-Saving Green Restoration Services
Exclusive marketing territories
A proven operating and marketing system
Ongoing training and support
Specialized business forms and software
Collective bargaining discounts from suppliers
A fully maintained customized website
No experience required


The Glass Guru
franchise locations are unique in the market.
We don't just replace glass & windows like all the others. We also RESTORE them!
Veteran Incentives 10% off franchise fee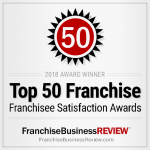 In Franchise Business Reviews Top 200.
It's time to give yourself permission to build your days around what's important to you! You're in Control!
For more information, complete our FREE FRANCHISE ADVICE form!