Shack Shine is pioneering the house detailing industry. Want in?
When you think of getting your windows or gutters cleaned, which national brand comes to mind? None? Exactly!
Window and gutter cleaning services are part of the highly fragmented $100 billion dollar home service industry. It's a locally-focused industry, without one dominant brand.
Enter Shack Shine: a revolutionary new enterprise backed by O2E Brands, the powerhouse that made 1-800-GOT-JUNK? a household name. We're pioneering the window washing / gutter cleaning industry by providing a comprehensive, customer focused experience we call house detailing. Want in?
If the franchisor grants you additional subterritories, the costs that must be paid to the franchisor or their affiliate will increase by $12,000 per subterritory.
Veteran Incentives 15% off franchise fee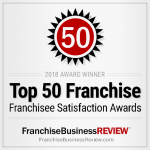 In Franchise Business Reviews Top 200.
It's time to give yourself permission to build your days around what's important to you! You're in Control!
For more information, complete our FREE FRANCHISE ADVICE form!