Brad Sugars started the consulting firm Action International in 1993 from his home in Brisbane, Australia. In ten years, the firm grew into an international franchise with offices in New Zealand, Asia, the United States, Canada, Mexico and Europe. Franchisees work with employees and owners of small to medium-sized businesses, offering guidance to not only improve company performance but also find the right balance between work and life. ActionCoach seeks potential franchisees who are friendly and have a solid general business background.
The total investment necessary to begin operation of an ActionCOACH
business coaching franchise ranges from $81,773 to $104,640 for a
PRACTICE franchise and from $125,773 to $1,111,670 for a FIRM franchise.
This includes the $74,500 for the PRACTICE franchise and the $99,500 to
$428,500 for a FIRM franchise that must be paid to the master licensee,
franchisor or an affiliate.
Veteran Incentives $5,000 off franchise fee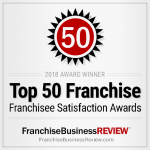 In Franchise Business Reviews' Top 200.
#346 in Franchise 500 for 2020.
It's time to give yourself permission to build your days around what's important to you! You're in Control!
For more information, complete our FREE FRANCHISE ADVICE form!