The demand for quality sales training has rarely been greater than it is today. Large U.S. corporations currently spend $7.6 billion a year on improving the skills of their salespeople. This makes salespeople the third most trained group of employees after executives and managers. And the majority of these firms must search outside for at least some of their sales training needs.

Through Sandler, you can tap this vast market - and beyond. Ask yourself if these characteristics fit you:


* I love to train and help other people grow.
* I have a passion for sales.
* I no longer fit the "corporate" mold.

* I am a good team player and also enjoy my independence.
* I am trainable.
* I am willing to follow a proven system.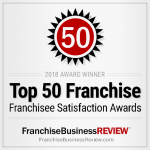 In Franchise Business Reviews' Top 200.

#348 in Franchise 500 for 2020.
It's time to give yourself permission to build your days around what's important to you! You're in Control!
For more information, complete our FREE FRANCHISE ADVICE form!